Taking a bicycle out around Omaha, Nebraska should not put your life at risk. Unfortunately, negligent and reckless drivers pose a serious threat to bicyclists around the country. In 2018, 857 bicyclists died and thousands suffered serious injuries in accidents with motor vehicles. In a crash between a bike and a motor vehicle, the bicyclist is more likely to end up in the hospital. Recognizing the common causes of bicycle accidents could help you decrease your likelihood of becoming a victim of one. It could also help you know whom to hold accountable after a bicycle accident.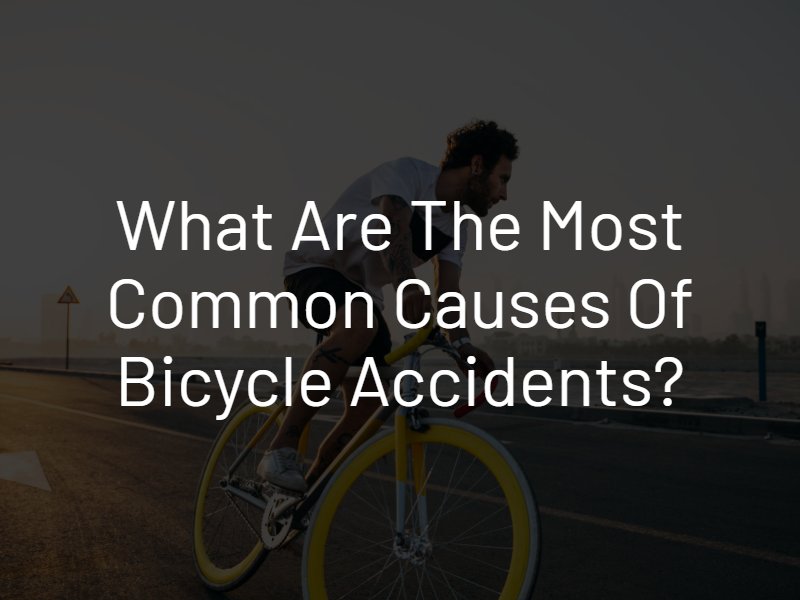 Lack of Bicyclist Visibility
Serious and fatal bicycle accidents happen most often at night, between 6:00 p.m. and 9:00 p.m. Riding after dusk puts you at risk of a driver being unable to see you. You can reduce this risk by obeying the state's headlight and reflector requirements for riding at night. Wearing bright colors and high-visibility clothing can also increase your visibility. Reduced visibility and higher driving speeds, however, mean you should avoid riding a bike at night on rural roads in Nebraska regardless. Lack of visibility could lead to a serious collision.
Alcohol Involvement
More than one-third (37%) of all fatal bicycle accidents in the US in 2018 involved alcohol. Drunk drivers are often reckless in their control of motor vehicles. They may speed, swerve, drift in and out of lanes, run red lights, drive the wrong way, and otherwise drive recklessly near bicyclists. They can also have impaired senses, judgment and reflexes. A drunk driver may fail to notice a biker and crash into him or her, causing severe injuries. Driving impaired also increases the risk of a hit-and-run accident.
Distracted Driving
One of the greatest risks bicyclists and pedestrians face is distracted driving. In 2018, distracted drivers claimed 2,841 lives nationwide. The most common form of distracted driving is texting and driving. Although Nebraska has laws that prohibit the use of handheld wireless devices while operating a motor vehicle, hundreds of drivers regularly break these laws. Texting and driving could take a driver's eyes away from the road long enough to not see an oncoming cyclist. Other types of distracted driving include eating and drinking, chatting with people in the car, looking at a GPS, fiddling with the radio, and rubbernecking.
Negligent Drivers
Bicyclists are vulnerable to serious injuries due to negligent drivers. Tailgating a bicyclist, passing too closely, honking or startling bikers, road rage driving, cutting a cyclist off, and turning left into an oncoming bicyclist are all examples of how a negligent driver could cause an accident. Every driver has a duty to pay attention, look out for bikers and respect bicyclists' rights to the road.
Broken Traffic Laws
Many motorists – and some bicyclists – do not understand the state's bicycling laws. For example, drivers often believe bicyclists should not legally ride in the road. This is not the case. Bikers have as much right to the roads as motor vehicle drivers. In fact, in major cities, it is often against the law for bicyclists to ride on sidewalks. All bicyclists must obey traffic laws, street signs and roadway rules. Crossing the street without the right-of-way, rolling through a stop sign and riding in the wrong direction are examples of broken rules that could increase the risk of a bike accident.
Dangerous Roads or Bicycle Paths
Some bicycle accidents are not due to negligent drivers but dangerous environments. It is the City of Omaha's responsibility to design and maintain reasonably safe spaces for all motorists – including vulnerable bicyclists and pedestrians. When the city fails in maintaining a roadway, bicyclists can suffer the consequences. Road defects such as cracked asphalt, potholes, debris, loose gravel, missing reflectors and dented guardrails could cause serious bicycle accidents. Dangerous roadway designs could also pose an unreasonable risk of harm to bikers. The city government could be liable for bicycle accidents that are due to preventable road hazards. Discuss your case with an Omaha bicycle accident lawyer to find out who might be liable.