If you operate any type of motor vehicle in Nebraska, it is important to understand how the state's insurance system works. If you get injured or suffer property damage in a motorcycle accident in Omaha, you will need to know whose insurance will pay for these losses, as well as how to file a claim. Here's everything you need to know about Nebraska's current motorcycle insurance laws.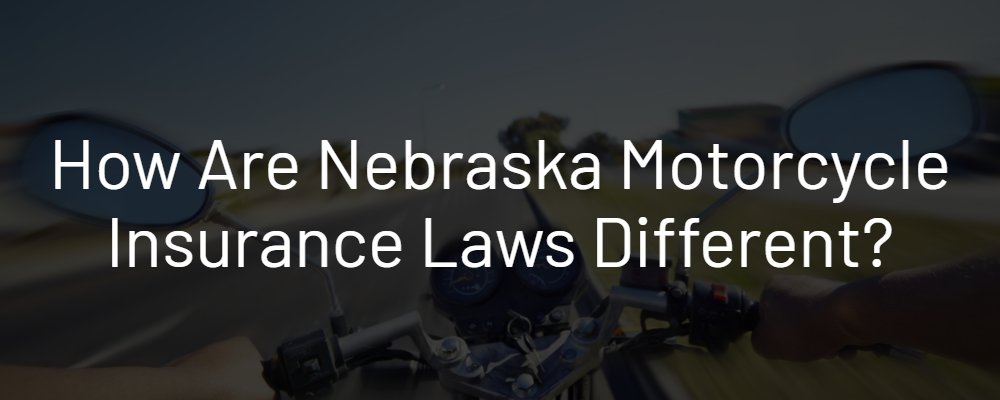 Do You Need Motorcycle Insurance in Nebraska?
Yes. Automobile insurance is required for all motorcycle riders in the State of Nebraska. If a motorcyclist is caught riding without insurance, he or she could face significant fines and other penalties, including license suspension and potential vehicle impoundment. If an uninsured motorcyclist causes an accident, he or she will be responsible for paying for a victim's property damage repairs and medical bills out of pocket.
The required minimum types and amounts of motorcycle insurance in Nebraska are:
$25,000 in bodily injury and death liability insurance for one person
$50,000 in bodily injury and death liability insurance per accident
$25,000 in property damage liability insurance per accident
Other types of insurance are also available, although not required, to provide a rider with additional coverage. This includes collision and comprehensive coverage, medical payment insurance, uninsured/underinsured motorist insurance, and custom parts coverage. Make sure you purchase adequate insurance not only to meet the state's requirements but to give you peace of mind.
Proof of Financial Responsibility Is Required
Motorcyclists must show proof of insurance to register their vehicles. Without proof of insurance, the Department of Motor Vehicles will not allow the rider to register a motorcycle. Proof of insurance must also be available during a routine traffic stop. If a law enforcement officer asks to see proof of insurance and the motorcyclist cannot provide it, the rider could face a ticket, fine and temporary driver's license suspension. 
Who Pays for a Motorcycle Accident in Nebraska?
Nebraska is an at-fault car insurance state. After any motor vehicle accident, including a motorcycle collision, all injured parties seek financial benefits from the insurance provider of the at-fault party. The victim must prove that the other driver or party caused the crash and is responsible for the losses suffered. The at-fault party's provider will pay for these losses through the policyholder's bodily injury and property damage liability coverage.
This system is the same for motor vehicle drivers as for motorcyclists in Nebraska. Things are different, however, in a no-fault insurance state. In 12 states in the country, a no-fault system requires all injured crash victims to seek benefits from their own car insurance providers, regardless of who is at fault. In these states, however, motorcyclists are almost always exceptions to the rule. Motorcyclists have the ability to seek coverage from the person or party at fault in most states, with or without a fault system.
How Do You File a Motorcycle Accident Claim in Nebraska?
If you get injured in a motorcycle accident in Nebraska, stay calm and don't admit fault. Move your disabled motorcycle out of the road to prevent further collisions. Call 911 to report the motorcycle accident immediately, even if it appears minor. Exchange information with the other driver. Then, get medical care right away.
When you're ready, contact the driver's car insurance company to file an initial claim. The insurance company will assign a claims adjuster to your case who may contact you soon after the crash to ask questions. Don't trust the claims adjuster, as he or she works for the insurance company, not you. Before you sign a settlement agreement or anything sent to you by the insurance company, contact an Omaha motorcycle accident attorney. If the other driver does not have enough insurance to fully cover your losses, your own car insurance may provide supplemental coverage. A lawyer can help you with the claims process and protect your rights.