Lincoln Truck Accident Attorney
If you get injured in a truck accident, you may not know where to turn for advice you can trust. A plaintiff's attorney will protect your rights and best interests during an insurance claim or personal injury lawsuit. The Lincoln truck accident attorneys at Knowles Law Firm have been helping victims and their families recover for many years. Ask how we can help you today.
Why Choose Us
We have successfully recovered tens of millions of dollars on behalf of our clients.
Our Lincoln personal injury attorneys are not afraid of taking on powerful adversaries in and out of court.
Personal injury law is all we do. Our attorneys have the knowledge and experience you need.
We will handle 100% of communications with an automobile insurance company for you.
Initial legal consultations at Knowles Law Firm are always free.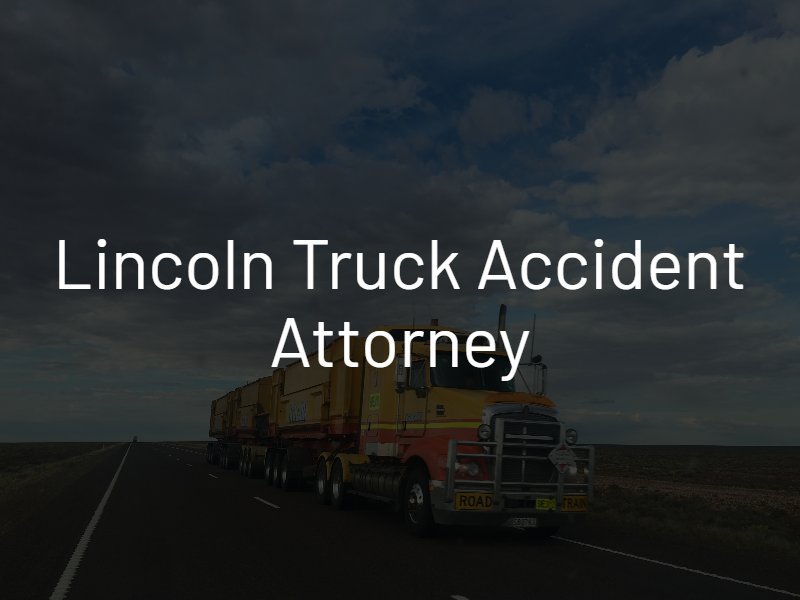 The Importance of Hiring an Attorney
The injuries sustained in a truck accident are often severe or catastrophic. This means they will stay with a victim for a long time, such as spinal cord injuries or brain injuries. If you or a loved one suffered a serious injury in a truck accident in Lincoln, you need an attorney to represent you for the best possible outcome. An attorney can negotiate with a trucking company's insurance carrier on your behalf to ensure an adequate amount is offered for your injuries and losses – including coverage for your future medical needs.
What Causes Most Truck Accidents in Lincoln, NE?
One of the many tasks a lawyer can complete on your behalf is to identify the defendant based on the cause of the collision. Your lawyer can hire accident experts, review evidence and revisit the scene of your crash to determine the cause of the truck accident. Then, your lawyer can take care of an insurance claim against the at-fault party while you focus on healing.
Common causes of truck accidents in Lincoln, Nebraska include:
Broken hours-of-service regulations
Driver fatigue
Driving while under the influence of drugs or alcohol
Driving while distracted
Texting and driving
Speeding and unsafe passing
Poor truck driver training
Lack of truck maintenance
Part breakdowns
Improper cargo loading
In Nebraska, the person or party responsible for causing a truck accident will be financially responsible for victims' losses through his or her auto insurance policy. A lawyer can help you identify the cause of your crash to determine liability.
What Makes Truck Accident Cases Unique?
Truck accident claims are unique compared to ordinary car accident cases in a few different ways. First, the injuries suffered in a truck accident are often more severe than standard car accidents. Common injuries include amputations, burns, disfigurement and broken bones.
The second difference is the size of the adversary. Most trucking accidents are the responsibility of the truck company. Under the vicarious liability law, a truck company is responsible for accidents caused by its employees, including drivers. It can be difficult to go up against a truck company alone as an injured plaintiff.
The third difference is the type of evidence available. A truck accident claim could involve evidence such as the truck's black box, electronic data recorders, truck driver logs, fleet maintenance and inspection reports, truck company compliance history, and more. A personal injury attorney can help you navigate all of the unique aspects of a truck accident case.
Request a Free Legal Consultation in Lincoln, Nebraska Today
If you or someone you love was recently injured in a truck accident, the Lincoln truck accident lawyers at Knowles Law Firm can help you pursue a fair and full financial recovery. We will negotiate with an insurance carrier or represent you at trial for maximum financial compensation. Our attorneys will go above and beyond to make sure you and your family have everything you need during this difficult time.
Start your truck accident case with a free consultation in Lincoln, Nebraska. Contact us online or call (402) 431-9000 24/7 to request yours.