Pedestrian accidents can cause catastrophic and life-threatening injuries. If you or a loved one were injured in this type of collision, contact the Lincoln pedestrian accident lawyers at Knowles Law Firm for assistance. We are dedicated to helping injured accident victims recover. Find out how we can help you during a free initial consultation.
Why Choose Us
We are proud of the reputation of excellence we have developed since 1967.
Our Lincoln personal injury attorneys prioritize open, frequent and honest communication with their clients.
Knowles Law Firm exclusively focuses on personal injury law.
We have obtained tens of millions of dollars in recoveries for past clients.
We accept all pedestrian accident cases on a contingency fee basis.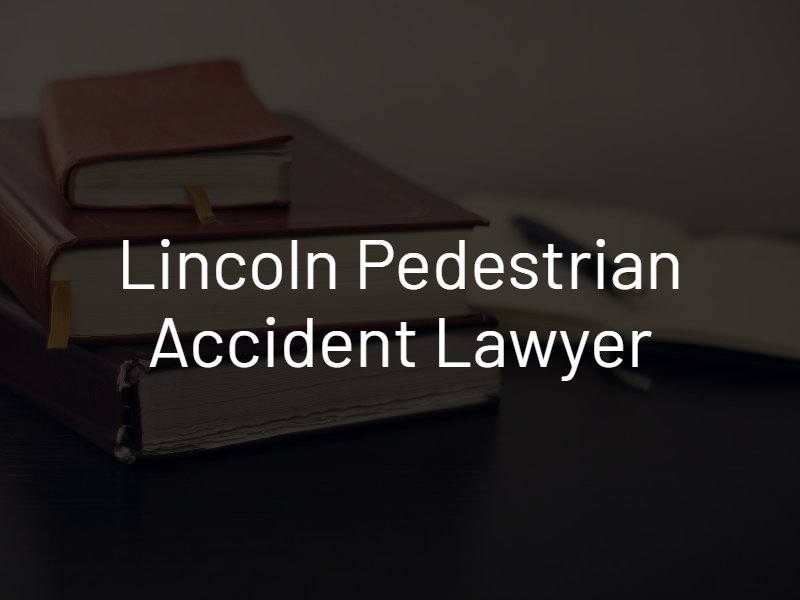 When to Hire a Pedestrian Accident Lawyer in Lincoln, NE
Litigating a pedestrian accident case can be difficult and expensive. Hiring a pedestrian accident attorney removes the stress from you and your family. You will have the ability to focus on healing while your lawyer handles complicated legal processes on your behalf. A lawyer will fight for maximum compensation from an insurance company to get the results you need to move forward.
Any time you're injured in a pedestrian accident, it's wise to consider hiring an attorney. In some circumstances, though, it's crucial. If you believe you were partially at fault for the accident, you should speak with an experienced lawyer immediately. Consider the following scenarios so you can see the importance of communicating with a lawyer when you're partially at fault: 
Scenario 1: You Were Jaywalking 
If you were crossing the street outside of a crosswalk or against a red light, you might be held partially responsible for the accident. However, this scenario is often more complicated than it seems. Just because you weren't using a crosswalk doesn't mean the driver can simply ignore you. The driver still has a duty to use due care when approaching intersections, even if there isn't a crosswalk present. 
To prove that the driver was negligent in this scenario, you'll need to show that they should have seen you and had time to stop but failed to do so. For example, if the driver was speeding or ran a red light, that would be considered negligence. 
Scenario 2: You Darted Out Into Traffic 
Another scenario in which you might be held partially responsible is if you suddenly darted out into traffic without giving the driver time to react. 
This scenario is similar to scenario 1 in that you'll need to show that the driver should have seen you and had time to stop but failed to do so. Your lawyer could also show that the driver couldn't stop in time because they were speeding, which contributed to the accident despite your partial responsibility. One way to do this is to obtain surveillance footage of the accident, if possible. 
Scenario 3: You Were Wearing Dark Clothing 
In some cases, pedestrians are difficult for drivers to see because they're wearing dark clothing. If this is the case and the driver struck you while they were walking at night or in an area with poor lighting, then you might be held partially responsible for the accident. 
To prove that the driver was still negligent despite the circumstances, you'll need to show that there were other factors present that should have made it easy for them to see you. For example, if there was a streetlamp nearby or the driver had their high beams on, those would help negate any argument about poor lighting being a factor and could point to the driver simply being distracted or not watching the road.
Even if you're partially at fault for the accident, you still have the potential to recover financial compensation. Nebraska uses comparative negligence laws to govern pedestrian accidents. This means you can recover compensation as long as you are less than 50 percent at fault for the accident. Any monetary award you receive at the conclusion of a trial will be reduced by whatever percentage you are deemed to be at fault.
Pedestrian Accident Facts and Statistics
Pedestrian accidents are more common in Lincoln, Nebraska than most locals realize. Drivers in Lincoln frequently commit acts of negligence and recklessness, such as failing to stop at red lights, rolling through stop signs and ignoring pedestrian rights-of-way. Pedestrian accident statistics in recent years highlight the magnitude of the problem:
At Knowles Law Firm, although we believe it is important to keep up with the latest crash data to try to prevent accidents, we never treat our clients like statistics. We will address your unique needs with a personalized legal strategy.
What to Do If You Are Struck by a Car in Lincoln, NE
If you are hit by a car while walking or jogging in Lincoln, remain calm and call 911. Do not allow the driver to convince you not to call the police. Do not admit fault for the collision, either. If you are injured, request paramedics and try to restrict your movements.
Write down the driver's name and insurance information while you wait for the police to arrive. Get medical treatment for your injuries immediately. Before you call the driver's insurance company to negotiate a settlement, consult with a lawyer for advice. Hiring a pedestrian accident attorney in Lincoln may be necessary for a fair case outcome.
Who Is Liable for Your Accident?
Since Nebraska is a fault-based insurance state, liability for a pedestrian accident will go to the party most at fault for causing the collision. This is often a negligent motor vehicle driver for making a mistake such as driving while drunk, drowsy or distracted. All drivers in Nebraska must maintain minimum amounts of car insurance to pay for the accidents they cause. The liable party could also be the government if a dangerously designed crosswalk or intersection contributed to the collision.
Collecting Evidence After an Accident
Despite the pedestrian almost always suffering the worst of the injuries in a collision, fault is not automatically applied to a motor vehicle driver. Instead, it is the injured pedestrian's responsibility to prove that the driver caused the accident using a "preponderance of the evidence." This evidentiary standard can also be described as "more likely than not," or evidence that the driver caused your pedestrian accident with at least a 51 percent certainty.
You or your attorney will need to provide clear and convincing evidence to support your pedestrian accident case in Lincoln, such as:
A copy of a police or accident report

Photographs

Video footage

Eyewitness statements

Medical records

Copies of x-rays and test results

An injury journal

Cell phone records

Testimony from experts
Preserving and collecting evidence is easier with assistance from an experienced personal injury attorney in Nebraska. Your attorney can make phone calls and file letters of preservation early on in your case to protect key evidence. Then, the law firm can use qualified experts, state-of-the-art legal resources and exceptional storytellers to present your evidence in a compelling way to a judge or jury.
Withhold Any Formal Statements From Insurance Providers
When you contact the driver's car insurance company to file a claim as an injured pedestrian, realize that the insurer is not on your side. Insurance companies always prioritize their profits and bottom lines over clients' financial recoveries. Protect yourself by being careful what you say to representatives of the insurance company – especially the claims adjuster, who is the person assigned to assess your case. Do not sign anything or accept a settlement until you have spoken to an attorney.
If you are contacted by an insurance claims adjuster, answer only the questions asked. Do not give more information than is requested. Keep your answers short and to the point. Do not speculate about fault or admit that you contributed to the pedestrian accident. If the insurance adjuster asks you to give a recorded statement, politely decline and explain that you will submit a written statement later after speaking to an attorney. The formal statement is a common tactic used by insurers to twist a claimant's words around and use them against the injured pedestrian later.
How to Keep Lincoln Pedestrians Safe 
When you operate a motor vehicle of any kind in the State of Nebraska, you must abide by all of the traffic laws and roadway rules that apply to you to keep others safe. It is especially important to keep pedestrians safe, as they are the most vulnerable road users. If you are driving in a residential area, busy business district or school zone, keep an eye out for pedestrians crossing the road. Many pedestrian accidents occur because the driver is not paying attention and fails to see someone walking.
At an intersection that is marked by a stop sign or at an unmarked intersection, you must yield the right-of-way to crossing pedestrians. You must also yield to pedestrians at crosswalks when they are close enough to your side of the road as to constitute a hazard. Even if you have the right-of-way at an intersection or crosswalk, proceed carefully and stay vigilant. Watch for pedestrians – especially children, who are more likely to dart out into the road unexpectedly.
Nebraska Driving Safety Law
In 2012, Nebraska passed a driving safety law known as the "three-foot" rule to keep pedestrians safe. According to Nebraska Revised Statute, Section 60-6,109, every motor vehicle driver shall exercise due care with a pedestrian or bicyclist, including leaving a safe distance of no less than three feet of clearance to avoid colliding with a pedestrian upon a roadway. Under this law, drivers should also give an audible signal to warn a child or an obviously confused or incapacitated person upon a roadway, when necessary. These precautions could prevent a devastating pedestrian accident in Lincoln.
Contact Knowles Law Firm for a Free Consultation 24/7
If you need assistance determining fault for your pedestrian accident, proving a driver's negligence, and/or negotiating for a fair amount for your injuries and damages, consult with the Lincoln pedestrian accident attorneys at Knowles Law Firm. We understand how these cases work and provide the services injured victims need the most.
To request a free consultation with our attorneys in Lincoln, call (402) 431-9000 24/7 or contact us online and we will get back to you as soon as possible.
ACCOLADES AND NEWS